For many countries, the quality of the air we breathe has become a national health priority.
After all, poor air quality can have a significant impact on our health and wellbeing, in particular since the onset of the coronavirus.
An air purifier is one of the best ways to combat air pollution and purify indoor air.
Today's air purifier technology provides for a safe and effective way to improve the air quality of ventilation systems and prevent health problems from arising.
Discover the benefits of the mini Air Cleaner air purifier.
How do air purifiers work?
A classic air purifier is used in a closed space to collect, filter, and transform indoor air into clean and healthy air.
Air purifiers complement the natural ventilation of a space, i.e., the air that enters through windows.
The most beneficial aspect of an air purifier is its nontoxic nature, as this type of filtration device creates no secondary pollution whatsoever.
In order for air purifiers to work best, one should be set up in each closed space.
Depending on the air purifier, you will be able to treat different-sized interior spaces, including the rooms in a house (bedroom, living room, dining room), offices, and shared spaces.
Household air purifiers differ from professional air purifiers in terms of their usage, filtration, and effectiveness.
A professional air purifier is designed for healthcare facilities such as hospitals and medical centers, and comes equipped with medical-grade HEPA* filters.
Professional air purifiers eliminate several types of pollutants, including fine particles, volatile organic compounds, viruses, and bacteria.
*HEPA filter: the HEPA or absolute HEPA filter in a professional air purifier can retain more than 99% of particles sized 0.3 µm or larger.
Woven with extremely fine fibers, the filter traps a variety of potentially allergenic and pathogenic substances such as dust mites, pollen, mold, pesticides, fine dust, viruses, and bacteria.

Changing scientific views on air purifiers since 2020
Before 2020 and the Covid-19 epidemic, the French Agency for Food, Environmental, and Occupational Health & Safety (ANSES) tended to downplay the effectiveness of air purifiers.
This changed in November 2021 and May 2021 with a publication by the French National Research and Safety Institute for the Prevention of Occupational Accidents and Diseases (INRS) and the French High Council for Public Health (HCSP) that declared those devices equipped with a high-efficiency particulate air (HEPA) filter as effective.
In addition to protective measures such as the maintaining of safe distances and the wearing of masks, air purifiers have played an important role in preventing Covid-19 from being transmitted via the air.
Why should you install an air purifier at home?
Air pollution has become a major health and environmental issue.
It is responsible for premature deaths caused by the harmful volatile residues, allergens, and viruses present in the air we breathe.
Public health measures aim to limit the transmission of pathogens in the air and prevent diseases (such as asthma) and allergies in people at risk, in particular children, at-risk individuals, and the elderly.
By placing an air purifier in closed and shared spaces (open spaces, doctor's offices, hotels, restaurants, etc.), this invisible pollution can be prevented and eliminated.
Air purifiers fully meet the requirements associated with healthy air, in particular with regard to the elimination of fine particle (PM2.5) pollution and the transmission of viruses and bacteria via the air.
Since the onset of Covid-19, these devices have been highly recommended in schools and any establishment that receives the public.

Air Cleaner, the mini air purifier for your car or home
The Air Cleaner air purifier is extremely compact, lightweight, and small in size.
Super space-saving, it plugs in via USB for quick and easy purifying of your home, office, or car.
Air Cleaner is designed with an air ionizer with an activated carbon filter to freshen and clean the air in your interiors.
The mini air purifier is made of ABS and silicone, and can filter the air in a closed, 10 m² (107 ft²) space.
Consumers love its streamlined design and unique mood lighting feature.
L'ioniseur et purificateur d'air Air Cleaner alimenté par USB-C rafraîchit votre espace, filtre les particules indésirables, réduit les odeurs et peut être utilisé comme un dépoussiérant domestique en appuyant sur un bouton.
Vous pourrez l'emporter partout avec vous : d'un poids plume de 136 gr et ses 5,2 pouces, il se pose partout sur un bureau ou une table de chevet.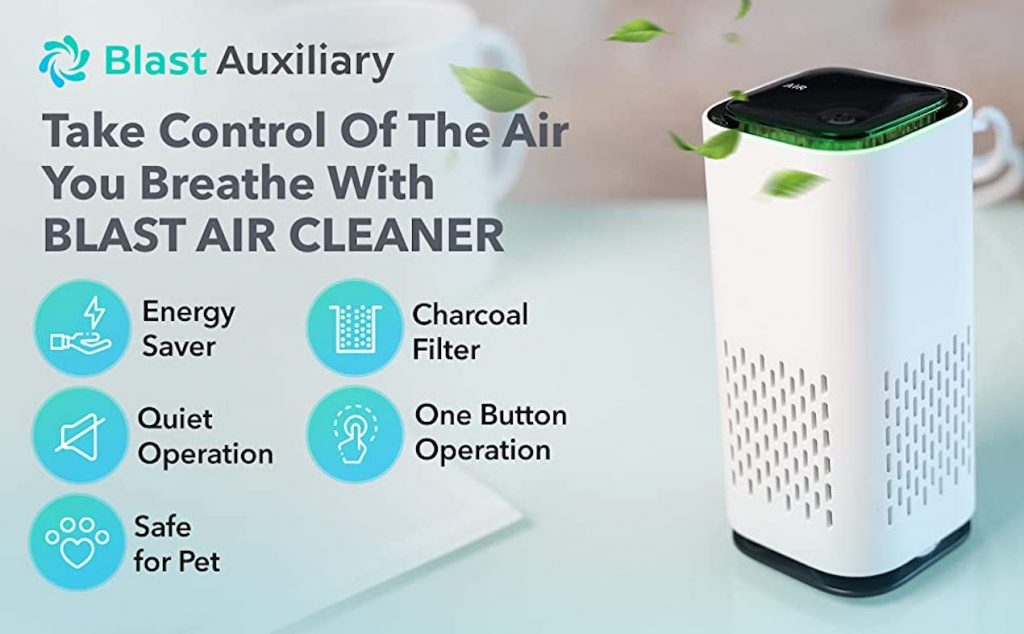 The many advantages of the Air Cleaner:
Air cleaner for the house or car: the USB Air Cleaner is built with a ventilation grid on each side for 360 degrees of pure air.
And thanks to its small size, the Air Cleaner takes very little time to start purifying the room and circulating clean air.
Proven effective design: negative ions continually purify the air, while grids accelerate the circulation of air and optimize the purification process.
Outstanding adsorption: the replaceable activated carbon filter absorbs dust, eliminates odors in the house, and filters impurities in the air.
Extremely quiet: only 18 dB, which means you'll totally forget that the Air Cleaner is in your bedroom as you breathe fresh air all night long.
The silent air purifier is also equipped with soothing RGB mood lights to create a peaceful and relaxing atmosphere.